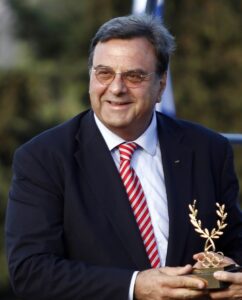 On this day 60 years ago (16th of June 1961), the International Olympic Academy opened its
doors to the Youth of the world, inaugurating with the most emphatic way the center of
Olympic Education and Research that Pierre de Coubertin had envisioned.
It was the first day of the 1st International Session for Young Participants, at the place where
nowadays the premises of the IOA are, in Ancient Olympia, with the presence of 31 students
from 24 countries. From that day and for 60 consecutive years, the IOA constitutes the main pillar of Olympic
Education internationally, spreading the Olympic values through its educational programs,
educating every year the new ambassadors of Olympism world widely.
Avery Brundage, one of the former IOC presidents, in 1967, referred to the IOA as the "Mecca
of Olympism", Juan Antonio Samaranch as "…the privileged spiritual and educational center
of Olympism", while Jacques Rogge underlining the long and successful work of the IOA
declared that "this Academy has been over the years a cornerstone in Olympic Education".
This year, the 60th anniversary of the IOA coincides with the completion of the works for the
total renovation of its premises, that was realized thanks to the financial support of the IOC,
as well as with the beginning of a new era for this International Center of Olympic Education.
Contemporary accommodation, sports, restaurant and teaching facilities, that meet the
standards of the biggest conference centers, will be hosting as of next year, the most devoted
friends of Olympism and the youth of the whole world who will live for a few days in the
enchanting environment of the IOA, right next to the ancient stadium that gave birth to the
Olympic Games 2.500 years ago.
New educational programmes will be organised in cooperation with the IOC and the works of
the IOA will now comprise every form of promotion of Olympic education.
The IOC President, Thomas Bach, referring to the work of the IOA stated in a recent address
on the Hill of Pnyx: "The IOA acts in many ways as the academic pillar of the Olympic
Movement, implementing the educational and social principles of Olympism. In this way, the
IOA helps and supports the IOC to better pursue our overarching mission to put sport at the
service of humanity".
As President of the International Olympic Academy, expressing also the thoughts of the other
members of the IOA Ephoria, I would like to thank all those who, under any capacity, have
offered their services so that the Academy is universally recognized.
The IOA's future in the Olympic Movement begins today on the occasion of the celebration
of 60 years from its foundation.